Oregon South Coast Fishermen Members catches.
Send in your pictures of catches you've had, your biggest fish, your first of a species, or just plain 'mad' pic's.
All pictures are thumbnail size, just click them for full size pictures.
To Start off, even your club president gets time to fish sometimes.
16lb Chinock Tony & Kev get a Rogue limit. 18lb Chinock 18+lb Steelhead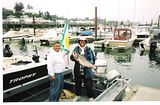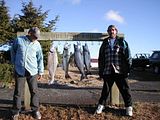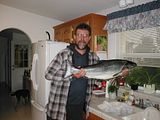 Pam Hobbs, her very first salmon. Two almost identical fin-clipped Coho of 6lb.

Clarence Benjamin & 'friend'
Wayne Barkers almost deep frozen Chetco 'metalhead'
Ray Brouette & some fine fish.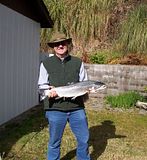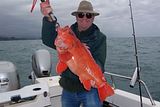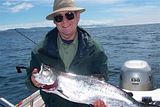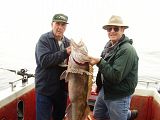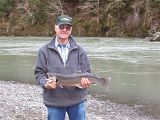 Rich Heap.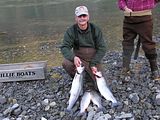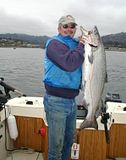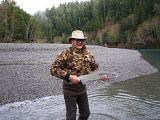 Steve Pringle.
Bob Crouch.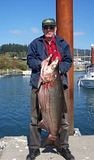 Even though John Weber is not a member, he is our STEP biologist & he can catch fish.....
Ron Sloniker.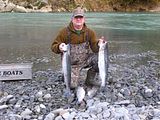 Cliff Cruickshank.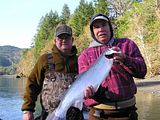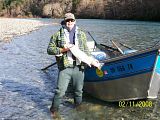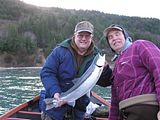 John Foht with 39lb King.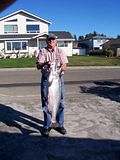 Don Jaynes with a lovely 52lb Chinock caught just outside of the mouth of the Chetco & a 110lbs Halibut caught of Charleston Oregon.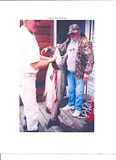 Dave & Irene Brooks with a 35.5lb Chinock, Dave with one he's not saying how big & Dave & Irene again with I believe Irene's biggest Chinock to date a 40.8lb Chinock & a much smaller 9.6lb Chinock